Engaging the Often Ignored

It's often too easy to move through a landscape without appreciating it. Regardless of how stunning or strange a particular place is, we've all done it -- after the initial shock of the shadows on the craggy façade of a cliff, or the undulating raw rubble of old lava flows wears off, we humans get easily lulled into a mode of sensory complacency. Amazement only lasts for so long before the awesome becomes the norm.

Which is why the design interventions of Norway's National Tourist Routes initiative are so significant. The result of almost $400 million of investment from the Norwegian government to enhance overlooks, picnic areas and rest stops along its scenic highways, the 18-year long program has resulted in over 120 projects in different sites throughout the country. As individual projects, the interventions provide examples of beautiful and sensitive design. As a whole, they serve to highlight the importance of design in drawing human attention to sites and systems that so often go ignored.



Locations of some of the projects (Map via Turistveg)

An offshoot of our hunter-gatherer heritage, humans are very good at keeping a narrow focus. We so often see only what shocks us, or what we're trained to see. Different creative mediums – film, dance – have long understood this fact and have developed various tools to signal users to pay attention at crucial places. Movies regularly use music to highlight the feelings or insights of a particular point in a narrative. Musicians employ lighting during live performances to cue audiences to a shift in mood.

The interventions along Norway's tourist routes are strong examples of how the tools of design do the same for our appreciation of the landscape. Norway's stunning countryside – from the sheer cliffs surrounding the country's glassy western fjords to the high mossy peaks of the Rondane – invariably draws the eye. Yet these interventions go a step further, calling tourists from all over the world to stop, linger and appreciate the dynamics of places they might otherwise pass by. It's a long-held belief that humans respond to the human touch, particularly in more wild places. Walking the line between art, architecture and landscape architecture, these projects are compelling examples of how the notion has never been more true.

The following photo essay explores six of these projects, categorizing them into three main ways that design can cultivate human appreciation of the often overlooked. Signpost interventions employ contrasting materials and bold shapes to serve as visual signals in the landscape. Highlighting interventions craft the form and movement of the design to accentuate landscape dynamics that might otherwise be difficult to identify. Perceptive interventions use framing devices to reflect the surrounding landscape in ways that enable new ways of relating to views and materials.


Signpost Interventions

Stegastein


The project's laminated wood curves contrast with the surrounding forested hillside, announcing that something special is happening at the site

Rest stop lookout on the Sognefjell road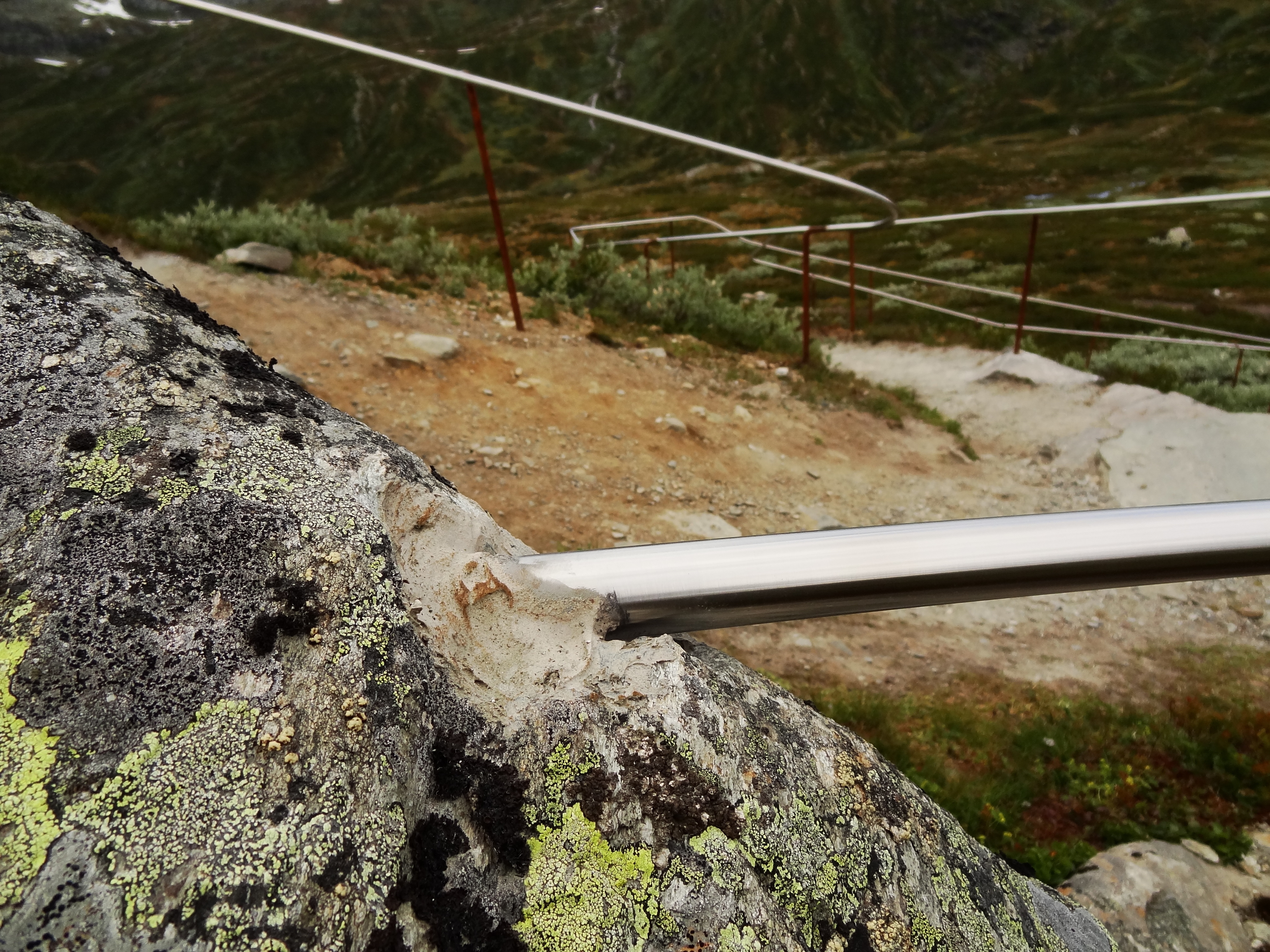 The dynamic zig-zag shape of the handrails, combined with the contrasting smooth steel and oxidizing support poles, calls the user's attention to the site.


Highlighting Interventions

Vedahaugane


The curving bench makes for a unique and simple design, yet it successfully invites the user much farther into the landscape than he or she would normally venture. By choosing a uniform curve for the bench amidst the dynamic topography of the site, the designer accomplishes the unique goal of revealing the complexity in the seemingly simple -- both in his design and the surrounding landscape.

Sohlbergplassen


The exuberance of the curves, coupled with the linearity of the concrete formwork, highlight the tightness of the groves and dappled light falling through the forest.


Perceptive Interventions

Gudbrandsjuvet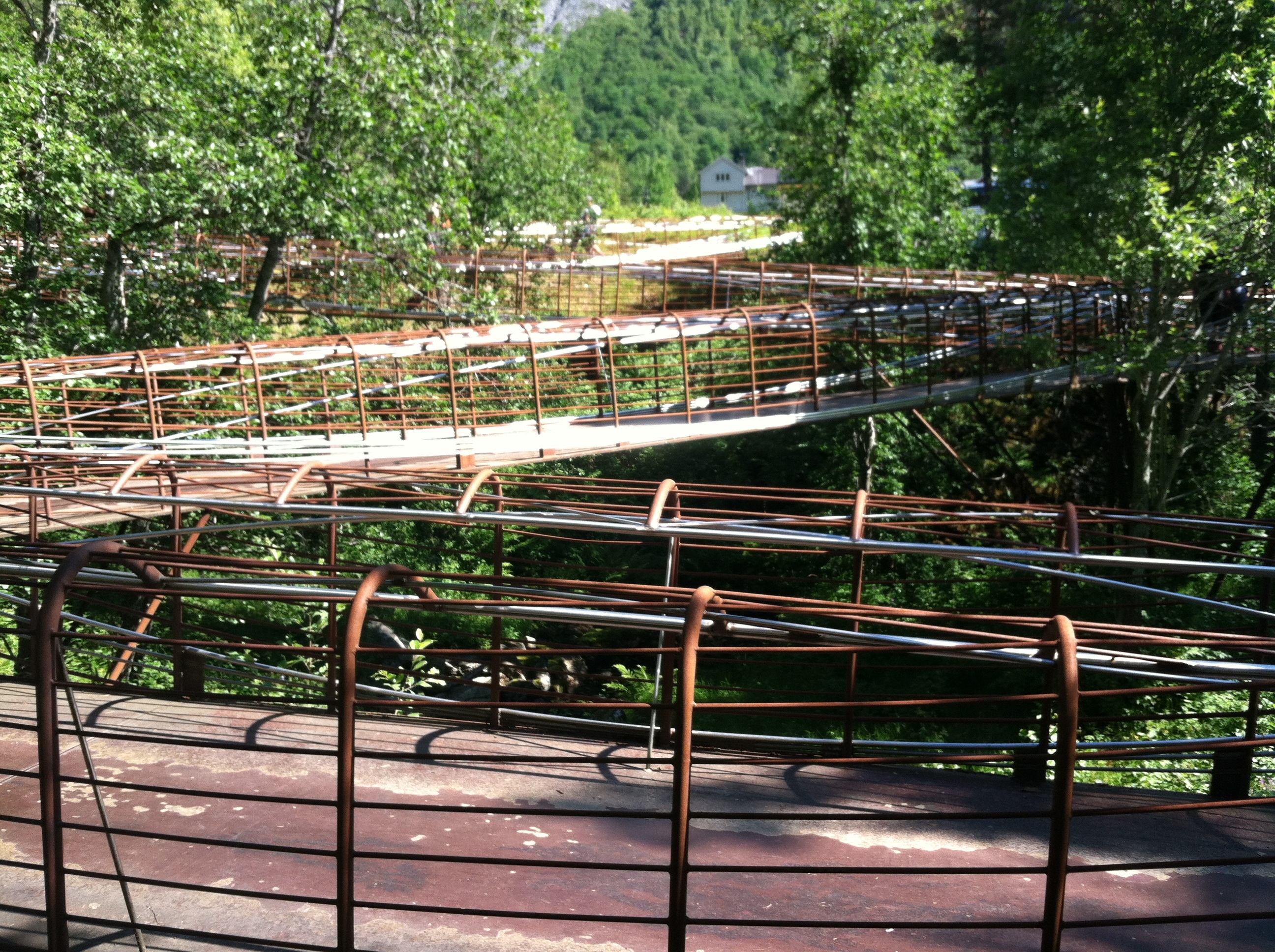 The corten steel walkway creates a feeling of spaciousness and fragility where there otherwise would be none. The project criss-crosses a canyon carved by a gushing waterfall. Without the intervention -- which connects to the groundplane through a series of delicate steel joints and concrete footings -- the site would be characterized by the powerful movement of the waterfall. Instead, the project crafts a sentiment of airy lightness.

The Atlantic Road in the county of Møre og Romsdal


This rising portion of the scenic highway crafts a sinuous line through the shore of the jagged Norwegian fjord.

Published in ASLA's The Dirt in September, 2014. https://dirt.asla.org/2014/09/26/along-norways-tourist-route-landscape-architecture-expands-our-narrow-focus/